Share
Issue Time

Dec 2,2016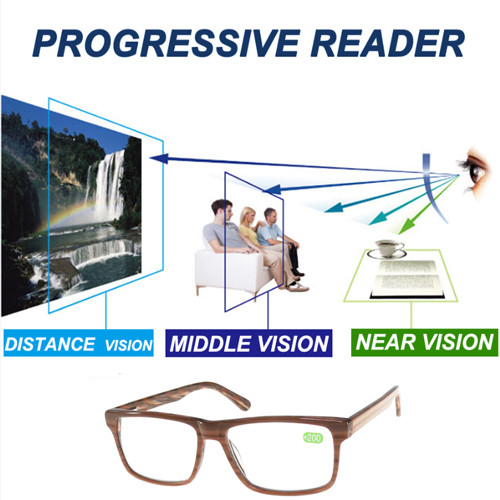 Not long ago, people have to wear conventional lined glasses if they have presbyopia and other near vision problems. It is true that those glasses have benefited them a lot. However, just because of their characteristic- lined, there are some very evident vision areas in each pair. Therefore, some wearers can not get used to very radical vision change with those glasses. Or some of them will suffer from very serious dizziness or headaches with them. But once the technology permits, such problems can be solved. And with the development of progressive glass technology, some ideal products for those problems come into the market- progressive glasses.
Generally, progressive glass lenses are totally different from traditional lenses, for there is no evident division line can be found in them. Those lenses are meticulously designed and wearers will find that vision change is very natural, never to be radical. Therefore, wearers think those progressive glasses are really good alternatives for them. However, there is a problem, almost all people will have to spend sometime to get used to them- the younger people will spend less time than those older people and new wearers will also adapt quickly than other regular users. But once they get used to them, they will find their vision is so perfect that they feel no glasses on their faces.
Progressive glass lens is widely accepted and very popular among wearers of all walks of life. The reason is very simple- much more advanced technology and much better results. However, there is a problem, such lens is much expensive than ordinary lenses. On the one hand, such lens must be prescribed in very accurate ways and manufactured meticulously. This requires highly of the opticians and the related equipments. On the other hand, the materials used to make it are the results of the latest technology and techniques, so as to make sure that wearers feel natural with it.
Of course, some people can not afford progressive glasses, though they want to buy very much, especially, some young people with low salary. But this does not mean those glasses can not be gained by them. There is progressive glass insurance that can help reduce their burdens. And many insurance companies have gained very large market share in such services.
All in all, progressive glasses are much better alternatives than lined glasses to some extent.